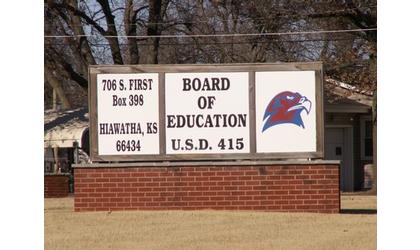 (KNZA)--A longtime Hiawatha school district staff member has resigned.
The Board of Education Monday evening accepted the resignation of Director of Finance and Board Clerk Leslie Grimm, effective December 1st.
Grimm told MSC News that she has accepted a position with the Kansas Housing Resources Corporation in Topeka and will begin her new job December 4th.
Board President Dr. Pete Rosa presented a plaque to Grimm in recognition of her 16 years of service to the district. He said she will be " greatly missed."
In other business, Superintendent Lonnie Moser discussed the search process for new middle and high school principals along with timelines.
Moser said he plans to meet with the staff at each building November 21st to find out what qualities they would like to see in a new principal.
The district will post the openings in early December.
Moser says plans are to make a recommendation to the Board by their February meeting for the hiring of a new high school principal, and recommendation to the Board by their March meeting for a new middle school principal.
Current Middle School Principal Dave Coufal is retiring at the end of the 2017-18 school year. Alan Jeffrey is serving as interim High School Principal following the resignation of Andrew Gaddis at the end of the 2016-17 school year.