20-mile pursuit ends with crash in creek
11/11/2017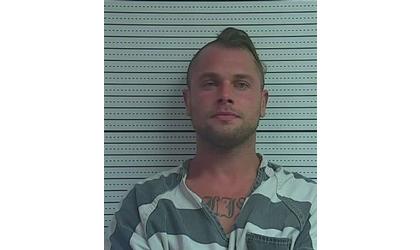 Robert Calisti
(KAIR)--An Olathe man leads Jackson County authorities on a nearly 20-mile pursuit, which ended when he crashed into a creek.
That's the allegation against 28-year-old Robert Calisti, who's now jailed in Jackson County on numerous charges, with more possible.
According to Jackson County Sheriff Tim Morse, the pursuit began around 9:30 Saturday morning after a deputy stopped a car near 150th and Q Road when it was discovered both the vehicle and the license plate were reported stolen in Missouri.
The driver allegedly refused to turn off the vehicle when told to do so by the deputy, choosing instead to flee the scene.
The pursuit began, with local law enforcement agencies assisting as the suspect vehicle crossed parts of the Prairie Band Nation and into the city of Holton.
Near the south side of Holton, Morse says Calisti's car entered the parking entrance of the Banner Creek Animal Clinic and then drove through a residential yard.
Driving through a fence and onto U.S. Highway 75, the suspect car eventually drove into the Prairie Lake City Park, northeast of Holton, where it crashed into a small creek.
Nealry 45-minutes after the pursuit began, Calisti was arrested on charges including felony possession stolen property, felony and flee and eluding, numerous traffic crimes, and drug crimes.
He was booked into the Jackson County Jail.
Two passengers aren't immediately facing charges in connection with the case.
Assisting the sheriff's office were the Prairie Band Potawatomi Tribal Police, Holton Police Department, Kickapoo Tribal Police Department and Kansas Highway Patrol, including the KHP aircraft unit.
© Many Signals Communications
You will need to be logged in to leave a comment.
Please Login The posting of advertisements, profanity, or personal attacks is prohibited.
Click here to review our Terms of Use.