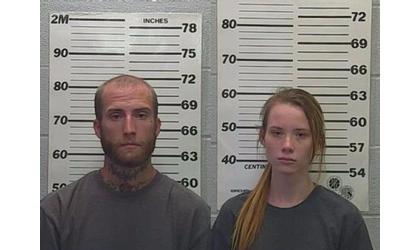 Kyle Wrightsman and Brittany Elmore
(KAIR)--The woman, arrested after authorities say needles used for heroin were stored beneath a pillow near a sleeping child, pleads no contest to the related charges.
24-year-old Brittany Elmore November 3 entered the plea in Atchison County District Court to charges including aggravated child endangerment and possession of heroin.
The plea came as part of a plea agreement dismissing other charges, including felony possession of methamphetamine.
Sentencing is set for the morning of December 15.
She was arrested on October 19, prior to the execution of a search warrant at her Terrace Hills apartment.
Atchison County Sheriff Jack Laurie, following the arrest and raid, said that along with the drugs and drug paraphernalia found inside the apartment were syringes underneath a pillow, located less than a foot away from a baby sleeping on the bed where the pillow was located.
Also arrested that day was 24-year-old Kyle Wrightsman, who authorities say shared the apartment with Elmore.
Charged with crimes including aggravated child endangerment, possession of methamphetamine, and distribution of methamphetamine, Wrightsman is scheduled for an appearance in Atchison County District Court on November 22.