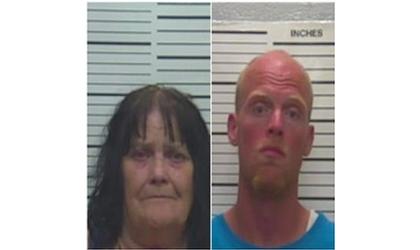 Andrew Tipton and Linda Ballard
(KAIR)--Two separate arrests are made in Atchison County over the weekend both involving methamphetamine charges.
The first, is 27-year-old Andrew Tipton, of Atchison, who was arrested Friday evening.
"Back on the 4th of June about 1 a.m., he was stopped at the 400 block of 59 Highway where he was seen leaving the Lutz Brothers there, and he was pulled over and arrested for driving while suspended, said Atchison County Sheriff Jack Laurie. "During the arrest, there were some items that were seized. We submitted those to KBI for testing. Once we received those back, we filed for warrants on those items."
He said Tipton was charged with possession of methamphetamine, possession of marijuana, possession of drug paraphernalia and driving while suspended. He was booked into the Atchison County Jail.
The second, was an Atchison woman arrested again for a previous incident who had been released due to a mix-up at the lab. She's 64-year-old Linda Ballard who was arrested back in April, along with her son, during a raid at an Atchison residence.
"We submitted everything to the lab that was supposed to, expect for this one package that was evidence for her case," Laurie said. "When we reviewed the results and got to the preliminary hearing, the county attorney was forced to dismiss until we got the items tested in the lab."
Ballard is now facing distribution of meth, possession of drug paraphernalia, no drug tax stamp and aggravated child endangerment.
Ballard was also booked into the Atchison County Jail.